A new smart lighting system has slashed energy use by 67 percent in San Mateo County's County Center Parking Garage, saving taxpayers an estimated $33,500 per year, or 73 percent of last year's electricity bill.
Financed by the County in partnership with PG&E and the California Energy Commission, the new lights made their debut in late January. Visitors to the six-level, 900-space garage now enjoy motion-responsive lighting that brightly illuminates a "predictive" pathway for pedestrians, while leaving unoccupied areas with lower light levels. Lack of motion for five minutes causes lights to dim to 60 percent of maximum output, and an additional 10 minutes of stillness causes half the fixtures to switch off completely.
A built-in astronomical timeclock automatically adjusts daily to accommodate longer or shorter daylight hours, taking advantage of natural light. The system's wireless controls allow for flexible programming and easier maintenance.
In addition, the 279 new dimmable fluorescent lamps and fixtures cost about one-third as much as the energy-hungry high-pressure sodium lamps they replaced. Fluorescent light fixtures on the garage's rooftop, where an array of solar panels was installed in 2010, were left in place, but upgraded with the addition of wireless controls. 
The $224,200 retrofit project cost the county $144,700, after factoring in rebates. Energy savings are expected to repay the county's investment in less than four years.
And speaking of the parking garage, the solar panel system installed atop the garage in 2010 is doing more than provding additional covered parking. The 362-kilowatt system has generated the equivalent of more than 72,000 gallons of gasoline in energy. Put another way, it has saved the equivalent energy needed to keep more than 5,000 light bulbs burning each day for a year.
New Website to Assist Renters, Landlords
SMCHousingSearch.org is a free resource to help you find a home in San Mateo County that fits your needs and budget. Property owners and managers throughout the county can post apartments or homes for rent any time, which means that our list is always current.
This service is sponsored by the San Mateo County Housing Authority and the Housing Leadership Council of San Mateo County, along with contributions from a variety of community agencies and local business sponsors. SMCHousingSearch.org provides detailed information about affordable rental opportunities across the county and helps people find housing that best fits their needs. The service can be accessed at no cost online or through a toll-free, bilingual call center at 1-877-428-8844, available Monday through Friday, 6 a.m. to 5 p.m.
Budget Update
The Board of Supervisors on Thursday tentatively approved a balanced budget of $1.8 billion for the 2012-13 fiscal year that eliminates 216 positions while maintaining critical public safety, health and human services.
The budget emphasizes maintaining core services for the upcoming fiscal year, which begins July 1. Over the next 12 months the County's 20 departments will develop plans to find long-term savings with such efforts as improving efficiency, restructuring or consolidating, negotiating labor cost savings and other means.
Since 2008 the County has eliminated 699 positions, or 12 percent of the workforce. The number of positions approved in the budget is 5,106, down from 5,805 in 2008.
"We are trying hard to avoid deep cuts to our core services – ensuring public safety, providing access to health care for our most vulnerable residents and helping residents who are still struggling from the recession with basic needs," said Adrienne J. Tissier, President of the Board. "At the same time we are investing in some long-overdue projects."
Interim Director for Information Services Department
The Information Services Department (ISD) supports all County departments in leveraging technology to best serve the residents of the county. With the resignation of Director Chris Flatmoe last month, Deputy County Manager Reyna Farrales has stepped in on an interim basis while the County searches for a new Director and Chief Information Officer (CIO).
Reyna has served as Deputy County Manager for Administrative Services since 2006. She has been with the County Manager's Office for 18 years, starting as a Management Analyst then Budget Director from 1997 to 2006. Prior to San Mateo County, she was a consultant for a public sector software company, and a program and budget analyst for Santa Clara County.
Her priorities include five-year budget planning, individual and organizational performance management, and leadership development for managers and supervisors to prepare them for future promotional opportunities.
In addition to finding the best CIO/ISD Director for the County by January, top priorities for ISD over the next several months include acting on recommendations from the ISD Employee Engagement Committee, setting performance and development goals for all staff, updating the County IT Strategic Plan for the 2012-13 budget cycle, and exploring the creation of a County Core IT Team to support all departments.
These priorities align with the three strategic goals established by the County's Information Management Planning Council:
• Increase access to and availability of County services
• Provide County staff with enabling technologies
• Realize efficiencies and cost savings
The County IT Strategic Plan was presented to the Board of Supervisors last November.
Ensuring U.S. Open Benefits San Mateo County
While the recent U.S. Open Golf Tournament was officially played in San Francisco at the Olympic Club, many of the golfers and spectators flew out of San Francisco International Airport — which is located in our county — and used our roads and services.
And in an interesting bit of geography, part of the Olympic Club is in San Mateo County — a very important part, it turns out: the part housing the main merchandise pavillion.
Members of the County Manager's Office and the Planning and Building Department toured the grounds before the tournament. They checked the location of merchandise tents against the County line and then contacted the Board of Equalization to ensure sales tax revenues would go to our local agencies, not San Francisco.
New Officers for Women in County Government
Women in County Government this month installed new officers for its Executive Governing Board. They are:
           President Christine Hollender, Real Property
           Vice President Juda Tolmasoff, Board of Supervisors
           Secretary Gina Luiz, Treasurer/Tax Collector
           Assistant Secretary Ellen Eckler, SM Medical Center
           Treasurer Lorelei Bresler, Human Services Agency
           Assistant Treasurer Angela Sajuthi, Health System
           Program Officer Faiza Steele, Human Resources
           Media Officer Susan Wright, Public Works
           Membership Officer Irma Compton, Planning and Building
           Marketing Officer Brenda Bennett, Public Works
           Assistant Marketing Officer Tiare Pena, Planning and Building
           Immediate Past President Michelle Mendez, Probation
The organization meets regularly to provide network opportunities for all county employees, encourage positive working relationships, present discussion forums regarding common issues and challenges and acknowledge outstanding contribution by women who work for San Mateo County.
You may not know the new president, Christine Hollender, by name but you may have seen her around County Center with a furry friend or two. Hollender volunteers for Canine Companions for Independence (South Bay Champions Chapter) by providing pups with experience in a working environment. The young dogs, who are being raised by others, are essentially interns — gaining some experience while still learning.  She became involved with the organization through her friendship with our late co-worker, Sandy Cohen, and her Canine Companion, Menlo. She is now working with Leah, who will one day assist a person with disabilities. 
County Government on the Go
With the arrival of sunny weather the County has hosted numerous outdoor and educational activities. Two such events occurred on Saturday, June 16: Dad and Me at the Park and Take A Hike. Disaster Preparedness Day, held June 9, and May's Streets Alive! Parks Alive! events drew thousands of particpants.
Dad and Me at the Park, held at Coyote Point, was sponsred by the Fatherhood Collaborative, which seeks to provide fathers with opportunities to spend fun and educational time with their children. For information about upcoming events, call 650-363-4571.
Take A Hike is a monthly series of hikes guided by our Parks rangers or docents. They provide insight into the plants of animals of particular parks and help visitors enjoy a beautiful day outdoors. The next hike will be on Sawyer Camp Trail on Saturday, July 21, at 9 a.m.  
Streets Alive! Parks Alive! highlights our county's great public spaces and parks by closing streets to cars and encouraging fun activities for residents, like hula dancing (above) in Belmont. The event is intended to inspire people to come together to be active and healthy in safe, car-free environments.
New Essential Supervisory Skills Program
One hundred county workers will return to the job with new skills this month, the first graduates of a training program that aims to enroll every San Mateo County supervisory employee over the next two years.
The county's new Essential Supervisory Skills Program expands training and support for every employee who supervises others, at both the management and frontline levels. The ESSP curriculum includes 16 hours of interactive workshop training designed to help supervisors:
• Set goals that connect employees to the organization's purpose and achieve high levels of performance and job fulfillment

• Give effective feedback to recognize accomplishments and keep performance on track
• Provide coaching support to maximize learning and development
• Conduct performance evaluations that summarize the past year and motivate future success
 
Program graduates will also have ongoing access to mentors and additional courses.
The ESSP was sponsored by the county's Employee Engagement Committee, which will monitor the program's impact. Employees can visit the Employee Engagement page on the County's Intranet site under "Common County Resources" for more information.
Want to keep up with Human Resources and learn more about working for San Mateo County? Visit the department's Facebook page: http://www.facebook.com/SanMateoCountyHR
Upcoming Events: Mark Your Calendar

June 28 Bluebird Celebration Join a celebration of bluebirds, suitable for 3 to 6 year olds, at 3 p.m. at Edgewood Park and Natural Preserve. 
July 3 Foster Care and Adoption Orientation Learn about foster care and adoption opportunities at an orientation, 7 to 9 p.m., Human Services Agency, 400 Harbor Blvd, Bldg B, Belmont.
July 4 Parade and Fireworks Parade in downtown Redwood City at 9 a.m. ; fireworks at Port of Redwood City at 9:15 p.m.
July 10 Disabilities Awareness Fair Hosted by the San Mateo County Commission on Disabilities from 11 a.m. to 2 p.m., County Center Plaza, Redwood City.
Keep Up With San Mateo County
Sign up to receive news releases and announcements from San Mateo County at http://sanmateocountynews.wordpress.com
You can find a list of the County's social media sites and ways to get conntected with County programs at www.smcgov.org under "Get Connected."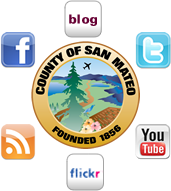 This newsletter was produced by the County Manager's Office. If you have questions or comments, send an e-mail to Marshall Wilson, the communications director, at mwilson@smcgov.org or call 650-363-4153.